Dr. Jill Levenson, professor of Social Work at Barry University in Miami, Florida, and one of the foremost experts in sex offender issues was awarded the ATSA Lifetime Significant Achievement Award at their annual conference last week.  The Award recognizes individuals who have contributed to the state of knowledge in the field of sexual abuse; the reduction or prevention of sexual abuse; or the development of initiatives or programs to assist abusers or victim/survivors.
Her work in this area spans more than 25 years and is documented in more than one hundred publications. She has testified as an expert in State and Federal Courts throughout the country and has been quoted as an expert in dozens of media outlets internationally.
From our perspective, she is deserving of this prestigious award, not only for her academic work and expertise in this area, but because of her courage to take on a topic that is unquestionably difficult and was likely not very respected by others in academia during her career. The courage to persist in her work has resulted in a large body of research that supports our advocacy work and has made (and will continue to make) a significant impact in our lives and the safety of our communities.
Well deserved Dr. Levenson!!!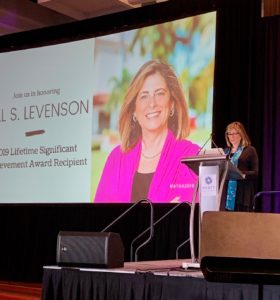 The post Congratulations to Dr. Jill Levenson on winning ATSA's Lifetime Achievement Award appeared first on Florida Action Committee.
Help us reach more people by Sharing or Liking this post.