Janice Bellucci and Kathleen Garner at RSOL's booth at the National Conference of State Legislatures, Seattle Washington, 8/4/2015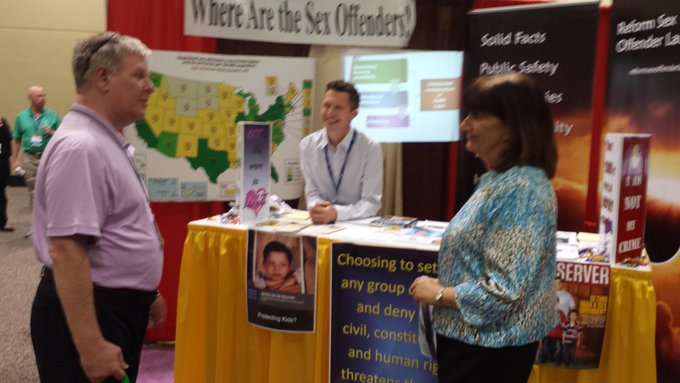 Visitor, Jason, Janice; NCSL; Seattle; 8/5/2015
RSOL is excited to announce that we have four representatives attending our exhibit booth at the National Conference of State Legislatures (NCSL) Legislative Summit. The event officially kicked off August 4th in Seattle and runs through August 6th. More than 5000 legislators and policymakers from all over the United States are expected to attend. RSOL's exhibit booth is staffed by Brenda Jones, Janice Bellucci, Jason Murphy, and Kathleen Garner. This is our third experience attending a NCSL Legislative Summit so we are still learning; however, we are forming relationships and getting our name as well as our issues before key policymakers. There is no other single venue that presents us an opportunity to interact and network with lawmakers from so many states as well as this one.
Brenda reported that attendance at this summit is quite large, possibly larger than last year. Among those who have visited the RSOL booth are legislators from many different states, staffers, and other exhibitors. Brenda also noted that there are a significant number of people from other countries and that they really don't understand the registry concept and were almost shocked when she explained it to them.
Help us reach more people by Sharing or Liking this post.